What is C.H.U.N.K. 666?


Some members of C.H.U.N.K. 666, 1993.














Some members of C.H.U.N.K. 666, 1997. Photos by Justin Callaway.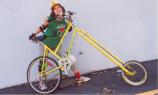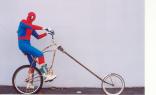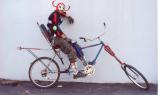 Some members of C.H.U.N.K. 666, 2002. Photos by Thandi Rosenbaum.
C.H.U.N.K. 666 is a bicycle club and civic betterment society based in Portland, Oregon, USA. Its modern incarnation was founded in 1992 or so, and is based on the classic cycling and drinking clubs of yore.
The club started when a few geeks found that the urge to create choppers and tallbikes was too strong to resist. They didn't know it, but they were being goaded by messages from the future, which were intended to prepare their recipients for the imminent apocalypse. Our mission is unclear, but we do know that once we began riding these devices, it was difficult to stop.
After the apocalypse, everything will change, including the laws of physics as we know them. We, due to our experience in riding chopper bicycles, tallbikes, and the like, will finally find ourselves at the top of the food chain, and it is we who will lead humanity out of the rubble and into the pleasure gardens. It is the promise of the gift of Prometheus. In the meantime, the world is fucked. Are we delaying Armageddon, or hastening it? We don't know for sure, but we do know that we are enjoying ourselves while making Portland a better place for the children.
---
---